(CNN) -- A heavily armed gunman attacked an Aurora, Colorado, movie theater early Friday, tossing tear gas before opening fire on the terrified audience and killing 12 and wounding 38, authorities said. The theater was showing the new Batman movie, "The Dark Knight Rises."
One of the injured was just 3 months old, hospital workers said.
The shooting unfolded inside a darkened theater packed with Batman fans, some in costume for the movie's premiere. Screaming, panicked moviegoers scrambled to escape from the black-clad gunman, who wore a gas mask and randomly shot as he walked up the theater's steps, witnesses said.
It was a scene "straight out of a horror film," said Chris Ramos, who was inside the theater.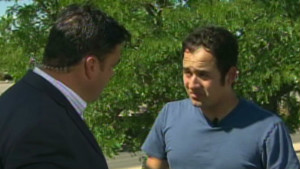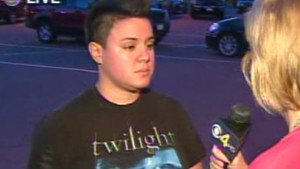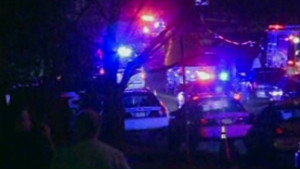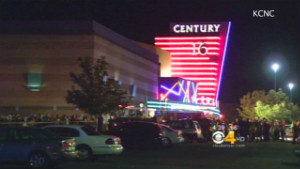 "He was just literally shooting everyone, like hunting season," Ramos said of the shooter.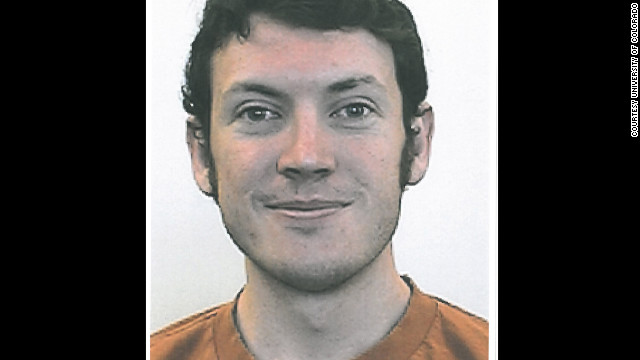 Police officers swarming to the theater encountered bloody, groaning victims streaming out of the theater. Others remained inside, many with gruesome injuries, according to recordings of emergency calls with dispatchers.
Victims flooded overwhelmed hospitals.
"I don't know how else to explain it, it's horrific," said Tracy Lauzon, director of EMS and trauma services at Aurora Medical Center.
Two federal law enforcement officers identified the suspect as James Holmes, 24, of Aurora.
Authorities recovered four guns -- a rifle similar to an AR-15, a shotgun and two Glock handguns, a senior official with the Bureau of Alcohol, Tobacco and Firearms familiar with the investigation told CNN. It was unclear how many of the weapons were fired, the official said.
After the suspect told police there was a bomb at his apartment, officers went there and found a "very sophisticated" booby trap inside, Aurora police Chief Dan Oates told reporters. However, the senior ATF official said no explosives were found.
Police arrested the man shortly after the shooting ended in a rear parking lot of the theater, Frank Fania, a police spokesman, told CNN.
"He did not resist. He did not put up a fight," Fania said. Police seized a rifle and a handgun from the suspect, and another gun was found in the theater, he said. It was unclear where law enforcement found a second handgun.
The suspect is scheduled to appear in an Arapahoe County, Colorado courtroom on Monday morning, Rob McCallum, spokesman for the Colorado Judicial Department said Friday. The court file was sealed, according to a court order.
The FBI is assisting in the investigation, officials said.
Oates said there was no evidence of a second gunman, and FBI spokesman Jason Pack said it did not appear the incident was related to terrorism.
Colorado Gov. John Hickenlooper issued a statement saying the shooting was "not only an act of extreme violence, it is also an act of depravity."
"It is beyond the power of words to fully express our sorrow this morning," he said.
President Barack Obama canceled campaign events Friday, telling supporters at what had been scheduled as a rally in Forty Myers, Florida, that "there will be other days for politics."
"This will be a day for prayer and reflection," he said, calling for the country to unite as one and support the victims.
"Such violence, such evil is senseless. It is beyond reason," he said before ending the event to return to Washington.
Chaos broke out during the showing of "The Dark Knight Rises" at the Century Aurora 16 theater when the shooting began, police and witnesses said.
The gunman went to the rear door of the theater and propped it open, then tossed a canister before starting to shoot, according to a federal law enforcement source involved in the investigation.
A federal law enforcement official told CNN the man used tear gas.
One moviegoer, who was not identified, told
KUSA
the gunman was wearing a gas mask.
Some people in the audience thought the thick smoke and gunfire were a special effect accompanying the movie, police and witnesses said.
The smoke smelled like a Fourth of July firework, said CNN iReporter Adam Witt. It took a few gunshots before he figured out what was going on.
"I hit the floor and hid behind the seats in front of me, pulling my wife down to hide with me," Witt said. "It was the longest minute of my life. The gunshots just kept coming. I knew it could be over any second. I knew my wife could be gone any second. It was absolutely surreal. I felt something hit my left arm, and my first thought was, 'At least it's just my arm.'"
"There were so many people running," he said. "I didn't look back. I just remember getting up from the floor and shouting, 'We have to run.'"
Witt said he held his wife's hand as they rushed out of the theater.
"There was a moment where I lost her hand, but I grabbed her shirt," he said. "We didn't let go of each other."
Quentin Caldwell, who was attending a screening in the adjacent theater, said he wasn't sure at first what was going on, despite hearing a "pop, pop, pop, pop" sound.
"We really didn't know something was happening until someone came from the left entrance and said we should not go outside because somebody with a gun was out there," he said.
Armed guards appeared at the theater exit and demanded audience members raise their arms to ensure they were not carrying weapons, then told them to run, Caldwell said.
"Outside was chaos. There was wounded everywhere," he said.
Cell phone video taken by someone at the theater showed scores of people screaming and fleeing the building. Some had blood on their clothes.
A police officer carried a girl believed to be about 9 with gunshot wounds to her back out of the theater, a witness said. "She wasn't moving."
Officers rushed many of the wounded to hospitals in their patrol cars.
Police initially said 14 people had died -- 10 in the theater and four at area hospitals -- but revised the death toll to 12 later Friday morning, according to Aurora Police Lt. Jad Lanigan.
Several people remained in critical condition at area hospitals.
Of the wounded, the University of Colorado Hospital said it had treated 22 people, including nine who were seriously injured. All of the wounded suffered from gunshot wounds, which ranged from minor to critical, spkeswoman Jacque Montgomery said.
The victims being treated there ranged in age from 3 months to 45, the hospital said.
Denver Health Center had six patients from the shooting, one in critical condition and five in fair condition, said Shelly Davis, house supervisor.
Swedish Hospital in Denver was treating three people, two of them in critical condition and one in fair condition. A fourth patient with minor injuries was treated and released, spokeswoman Nicole Williams said.
Children's Hospital Colorado said it had treated six adult victims, one of whom died. And Parker Adventist Hospital was treating two people for minor injuries, according to a spokeswoman.
After Holmes allegedly told police he had a bomb at his apartment, authorities evacuated his building and one across the street, according to witnesses.
A woman who lives across the street from where the suspect's apartment said police evacuated her building around 4 a.m.
"They told us there was a bomb or bomb material located in the house across the street from us." Rebecca Bradshaw said.
Law enforcement officers who searched the suspect's apartment found "items of interest," a federal law enforcement source involved in the investigation told HLN. He did not elaborate.
Bureau of Alcohol, Tobacco and Firearms agents were involved in the apartment search, agency spokesman Tom Mangan said.
In addition to looking into the possibility of explosives, ATF agents also are conducting emergency traces on the weapons to see how they were obtained, Mangan said.
Authorities also searched the suspect's car in the parking lot of the movie theater.
In addition to canceling his Florida campaign appearances, Obama pulled some advertising in Colorado.
Presumptive GOP presidential nominee Mitt Romney also pulled advertising and issued a statement, saying he and his wife Anne were "deeply saddened by the news of the senseless violence."
Warner Bros., the studio behind the movie, said the company and filmmakers were "deeply saddened" to learn of the incident. The studio canceled the movie's Paris premiere, while New York police Commissioner Raymond Kelly said his officers would watch over screenings of "The Dark Knight" to prevent copycat shootings.
The National Theater Owners Association said in a statement that its members would be reviewing security procedures in the wake of the shooting.
The movie theater where the shooting took place has not been the site of any security incidents, said Timothy Warner, CEO of Cinemark Theaters, which owns the complex.
"You know, obviously you know, the person made a well-organized ... and had an assault weapon that would probably overpower any security that we would've had," he said. "I mean, this is obviously a very deranged gunman that had access to very high powerful weapons."
Aurora, a Denver suburb, is about 13 miles from Littleton, Colorado -- site of the April 1999 Columbine High School massacre.
In that incident, two teenage students, Dylan Klebold and Eric Harris, armed themselves with guns and bombs and opened fire inside the high school. They killed 13 people and wounded 23 others before killing themselves.